VIDEO TUTORIAL
---
DESCRIPTION
---
This brief tutorial will guide you through the process of adding the Delivery Trust Plug-in (extension) to your Gmail account
PREREQUISITE
---
Log into your Identillect account through the web portal using the Chrome browser (or Mozilla). 
If this is the first time you are installing the plug in you will  have an email sent to Set Your Password on the web portal. If you do not receive the message you can also follow the steps for the Password Reset and using that message can set your password.
*NOTE: You may want to add Identillect as a Trusted Site to ensure stability when downloading the plugin.
RESOLUTION
---
Click on the following link to access our Gmail Plugin (Chrome extension):
https://chrome.google.com/webstore/detail/delivery-trust/hhjlfjobhfhlmlmggkfcpkmbmodakigk
Click "Add To Chrome" (button in top right corner will go from green to blue once added)
Then click "Add Extension"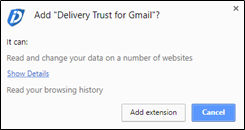 Click on the blue Identillect logo in upper right corner of Chrome to log into the Gmail Plugin 
Select to Login and use your Identillect credentials (same credentials as same as when you log in at identillect.com)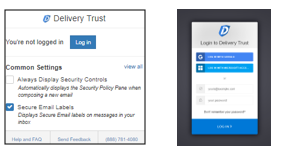 Refresh your Gmail page (Inbox) via "Ctrl+R".
Important: let the page finish loading (wait until the "spinner icon" in upper left corner (in the browser tab) has stopped spinning)
Click Compose to open a new compose screen 
Verify that there's a "Secure Send" button (to the right of the regular Send button)
- If you do not see the "Secure Send" button then please Refresh your web page again