The Authentication Choices along with the Security Controls located on the side panel of all the Delivery Trust products allow the sender to provide an extra layer of security that limits the recipients access to the secure email once it's received. This includes various authentication options to challenge the user before allowing access to the email.


Instructions
---
Note: In order to use the Delivery Trust Panel, the recipient(s) name must be detected in the email - when this happens the email address is underlined.
1. First add your recipient's email address to activate the Delivery Trust Panel.
2. Once activated you will be able to select any of the following options you would like to add additional layers of security to your message. (We recommend reviewing the choice with your recipient so they are familiar with the proper information to enter once they receive the message.)
Last 4 digits of mobile phone number - Require the recipient to provide the last 4 digits of their mobile number before being allowed to view the email.
Last 4 digits of business phone number - Require the recipient to provide the last 4 digits of their business number before being allowed to view the email.
Business postal code - Require the recipient to provide their postal code before being allowed to view the email.
Mobile number to send SMS passcode - Provide a mobile number to send a passcode which will be required to view the email.
Password - Require a password before being allowed to view the email.
Custom question and answer - Require the answer to a question before being allowed to access the email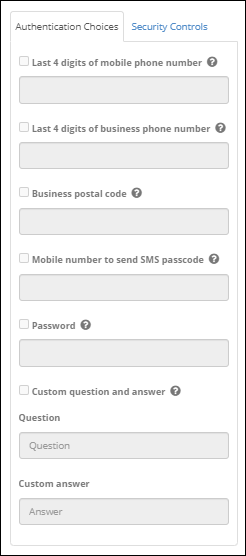 Related Topics
---