Description: This article will help educate you on selecting additional layers of security for the plugin you are using. (Gmail, Outlook, O365 or the Web Portal). 
Prerequisites: None.
Your emails will still be sent securely by hitting the "Send Secure" button, however, security controls add an additional layer of security and

restrictions

 to your

message

.
*Note: In order to use the Delivery Trust Panel the recipient name must be reconciled in the email - when this happens the email address is underlined.
Instructions: 
First add your recipient's email address to activate the Delivery Trust Panel.
Once Activated you will be able to select any of the following options you would like to add additional layers of security to your message.
Example:
Disable Printing
Disable Forwarding
Disable downloading of attachments
Disable downloading of email
Require internal user authentification
Notify me when email is first read
Expires On (one day, one week, two weeks, one month)
View Limit (1-3 times)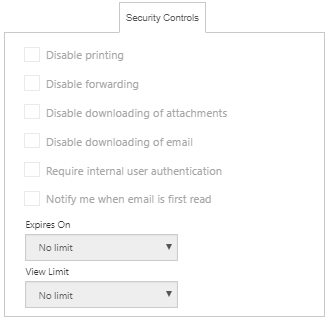 For further information on the Authentication Choices  please visit our Knowledge Base Article.